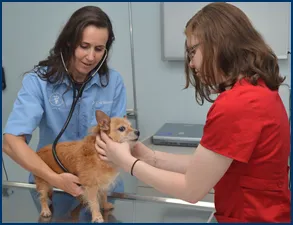 Dr. O'Rourke and her entire veterinary team believe prevention is the true key to your pet's long-term health and by doing so, reduces the lifetime cost of care overall. Thorough examinations are our chance to assess your pet's complete health, discuss any changes in health we see, educate and update you on advancements in veterinary care, and for you to discuss any concerns or questions you may have. These examinations are invaluable in keeping your pet happy and feeling great. Our comprehensive wellness exam will assess your pet's health and proactively allow for recommendations or treatments to maintain such health.
You may call our animal clinic or request your appointment online today for your pet's next wellness exam! We are located right off of 14th Street and Derby and just minutes from nearby communities.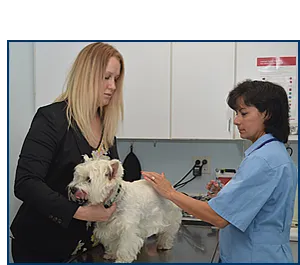 During your pet's annual wellness exam, your Lange Animal Clinic Veterinarian will check for the following items to help your pet remain in good health:
Ask you about your pet's health history since your last wellness exam
Document any changes in age or weight since their last visit
Check your pet for early signs of disease and suggest tests for making an early diagnosis
Ask you about any significant lifestyle changes in your pet such as activity levels
Perform a thorough physical exam of your pet including the heart, teeth, eyes, mouth, ears, coat, skin, and paws
Ask you about any changes to your pet's behavior or interaction levels
Make recommendations on care and diet based on new information and identify any potential disease(s) that could affect your pet
Based on your comments and the exam, your Lange Animal Clinic Veterinarian will customize your pet's immunization schedule to their individual needs based on health, age and risk of exposure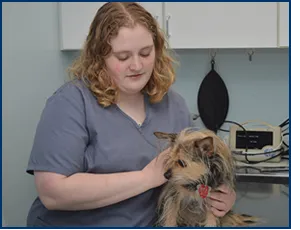 Fecal Check and Deworming
Dangerous parasites are always present in the environment. If brought into your home, some of these parasites can be passed from your pet to you and your family. For example, we normally associate parasites, such as roundworms and hookworms, with cats and dogs, people can be infected with these parasites as well. Regular fecal checks and deworming are the best way to prevent parasitic disease in your pet and prevents the shedding of parasite eggs, which can contaminate lawns or any place a pet defecates.
Regular Blood Testing
A complete wellness exam traditionally includes a screening for parasites, urinalysis and a full blood workup in addition to the physical exam. Not only can a full chemistry panel and complete blood count identify the presence of underlying diseases- these tests help create a baseline in the event your pet becomes ill between regular examinations. Additionally, blood work is quite necessary if one of our veterinarians recommends a veterinary dental cleaning, removal of a skin mass, or any other procedure that requires anesthesia. At Lange Animal Clinic, we recommend comprehensive blood work annually for all pets over the age of 6.
Good Communication Leads to Good Pet Health
During each examination, we also take the time to listen to your concerns, answer your questions, and give you all the information you need to be the best caregiver to your pet. We also spend time discussing your pet's nutritional needs, socialization, house training, grooming, bathing and exercise needs. Good communication between you and your pet's doctor ensures your beloved companion is receiving the optimal care and attention needed to live a long, healthy life.
Contact us today! (309) 347-4679