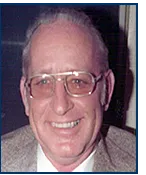 Dr. Cecil W. Lange graduated from Iowa State University College of Veterinary Medicine in 1962 and immediately began working in a veterinary practice located in Ft. Madison, Iowa. In 1965 he chose to move himself and his family to Pekin, Illinois and became an associate veterinarian at Pekin Animal Hospital until opening his own clinic in 1968. Dr. Lange managed Lange Animal Clinic and performed veterinary services up until his retirement in 1991. He was accredited with several professional memberships including: the American Veterinary Medical Association (AVMA), the Illinois State Veterinary Medical Association (ISVMA) and the Mississippi Valley Veterinary Medical Association (MVVMA). Locally, he was a member of the Pekin Country Club, Pekin Optimist Club and Pekin Moose Family Center #916. Even during retirement Dr. Lange couldn't stay away from practicing in the field he loved and would continue to perform surgery at least once per week until August 2008, just before his death in November of that year.
---
Dr. Kevin O'Rourke was a graduate of LeRoy High School and attended the University of Illinois earning a Bachelor's degree in 1979. He continued on at the University of Illinois in the College of Veterinary Medicine to earn his doctorate degree in 1983. Dr. O'Rourke began his life-long passion of caring for animals at the Knox Veterinary Clinic in Galesburg, Illinois. In 1986, he moved to Pekin and became an Associate Veterinarian at Lange Animal Clinic and then purchased the business upon Dr. Lange's retirement in 1991. Throughout his tenure as owner, Dr. Kevin O'Rourke introduced many new technologies, equipment, and added an in-house laboratory at the clinic. He also played in integral role in starting the Tri-County Animal Emergency Clinic and actively served on its board. He was a proud member of the AVMA, the ISVMA and the MVVMA. Locally he was a member of the Pekin Area Chamber of Commerce and St. Joseph Catholic Church. Sadly, Dr. Kevin O'Rourke passed away at the early age of 55 in early 2013.
---
Dr. Colleen O'Rourke was a graduate of Tri-Valley High School in Downs, Illinois and subsequently attended Illinois State University achieving her B.S. Degree in Biology in the year 1991. As another passionate lover of animals, Colleen went on to attend the University of Illinois College of Veterinary Medicine and earned her doctorate degree in 1997. Dr. Colleen O'Rourke began her professional career at a mixed animal practice in Clinton, Indiana. She also worked at a small animal practice in Lincoln, Illinois before joining her cousin and mentor, Kevin O'Rourke, at Lange Animal Clinic in September 2000. Dr. O'Rourke is a member of the AVMA, ISVMA, and has served as a board member with the MVVMA. Upon Kevin O'Rourke's death in 2013, Colleen managed the business until assuming ownership in January 2014. Dr. Colleen O'Rourke plans to continue the high level of compassionate care implemented by Cecil Lange and Kevin O'Rourke by continually educating herself and her staff of the newest treatments and technologies available to improve the qulity service Lange Animal Clinic provides.