In our continuing efforts to offer the highest quality veterinary medicine, we provide a wide range of surgical services for our patients. From routine surgical procedures to more complex surgeries, we look forward to caring for your pet's surgical needs. Of course, our first priority is to ensure the absolute safety and care for your pet during any surgical procedures. We use the latest technology by using LASER surgical equipment. LASER is an acronym for Light Amplification by Stimulated Emission Radiation. In short, it is a device that generates a beam of light energy at a specific wavelength. The most commonly used veterinary surgical laser is the CO2 laser- which we at Lange Animal Clinic utilize. The wavelength of the CO2 laser beam is absorbed by the water found in skin and other soft tissue, vaporizing the cells and thereby "cutting" the tissues. Our veterinarians can control the extent to which the laser beam is absorbed into the surrounding tissue, allowing extreme surgical precision. In addition, the laser beam seals blood vessels, lymphatic vessels and nerve endings which creates less bleeding, reduces swelling and is less painful for the patient. All these benefits of the CO2 laser amount to quicker recomery and less post-operative discomfort for our patients.
Surgery types that we perform:
Routine surgeries such as: spay, neuter and feline declaw
Soft tissue surgery such as: growth removal, wound repair, foreign body removal, and minor reconstructive surgery
Minor orthopedic surgery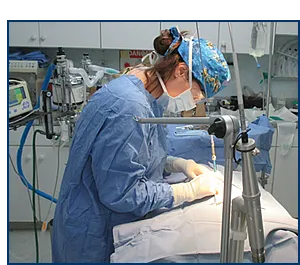 We understand surgery can be a source of anxiety and stress for many pet owners. Our staff of skilled veterinary surgeons will make every effort to ensure that your pet receives the very best care. We focus on patient safety, pain management, and employing the most current surgical procedures to provide the best quality care to our patients. Our trained staff will monitor your pet before, during, and after surgery and will take exceptional care to ensure a safe and complete recovery for your pet.
We are happy to address any questions or concerns you may have about surgery, including concerns about the process of anesthesia, pain management, or postoperative care. When your pet is ready to go home, we will review your postoperative care and medication instructions. If any questions arise after your pet returns home or at any other time during the postoperative period, please contact us. We welcome your questions and will do all we can to help your pet fully recover.
Call today! (309) 347-4679