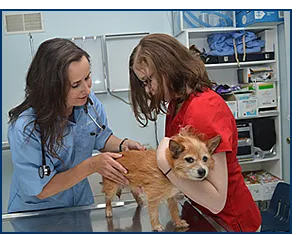 External parasites such as fleas and ticks are common external parasites of dogs, cats, and other mammals. We can inform you of safe and effective flea prevention treatments including: Advantage Multi, Comfortis, Frontline Plus, Nexgard, or Trifexis.
Internal parasites such as heartworms are a common and potentially deadly parasite that affects both dogs and cats. Symptoms include coughing, aversion to exercise, lethargy, and sudden death. Prevention and early detection are key when it comes to combating the serious disease caused by heartworms. A heartworm prevention should be administered for both cats and dogs to be administered monthly such as: Advantage Multi, HeartGard, or Trifexis.

Intestinal parasites commonly found in the Central Illinois area include: roundworms, hookworms, tapeworms, whipworms, coccidia and giardia. In most instances, these parasites do not cause external symptoms in pets. Some of these parasites can affect people as well, and can lead to serious disease. For these reasons, biannual testing and monthly preventative measures in our pets is imperative. Fortunately, we have effective medications to treat most parasites. Many of the medications we use to treat internal parasites, called anthelmintics, can treat more than one parasite. The asvent of these broad spectrum anthelmintics makes prevention and treatment much more effective. Many of our monthly heartworm, flea and tick preventatives also provide some intestinal parasite prevention as well.
If you need a new prescription or a refill of a current parasite preventative you are using, and would like to order online, please click HERE.
Call today to schedule your appointment! (309) 347-4679